UPDATED: July 8, 2019.
You may have heard about Foursquare. If you have not, as a small business owner, you very much should! Foursquare is a robust app focusing on providing reviews and recommendations for patrons of local businesses all over the world. Because it is so popular, marketing on Foursquare can be a worthwhile investment. So if you are wondering how to use Foursquare for business, this post is for you!
Foursquare began as a location-based game app that allowed users to check into places they were visiting, like coffee shops, stores, offices, and parks. It gained a solid following and outgrew its basic premise in a matter of years, bringing the founders to the idea of splitting the app into two.
Foursquare in its current form focuses on local business listings and user reviews of them ("tips"). Swarm, Foursquare's sister app, is dedicated entirely to the game of check-ins and sharing them with friends.
Is Foursquare relevant to you as a small business owner?
If you operate a bricks-and-mortar location that welcomes foot traffic, yes! You should be on Foursquare. In fact, you may already appear on the platform! If you are, users may be checking into your location and be leaving reviews about you. If you do not appear on Foursquare yet, you should add your business! Adding it (but not claiming it) is free.
Furthermore, Foursquare has its own advertising platform that serves local businesses appearing on the app. Unlike Yelp, it does not aggressively solicit businesses' participation in its expensive ad program, so it is very little known. At the same time, it can add a lot of value to your marketing mix for only a few dollars per month.
How do you find your listing? How do you claim your business on Foursquare? Should you advertise on Foursquare/Swarm if you are a local business? This guide will answer all these questions and tell you everything you need to know about how to use Foursquare for business. Let's dive in!
Foursquare and Swarm: Basic Functions
Let's take look at both apps first and learn what they do and how.
Foursquare
Foursquare is available both on desktop and as an app for Android, iOS and Windows phones.
When you open the app, it welcomes you to start searching for places nearby. There are tons of categories that listings can get assigned to, from "Restaurant" to "Advertising Agency" to "Tree". (Yes, people like to check-in near beautiful old trees.)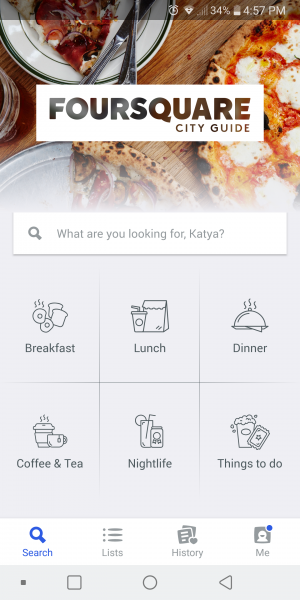 You can click on suggestions or type in your own search.
The listing for any Foursquare place ("Venue"), be it an office or a coffee shop, contains its location, contact details, photos (submitted by users), tips, as well as the rating (from 1 to 10) that is based on how much users like the place. Naturally, the higher the rating the more favourably it reflects on the venue.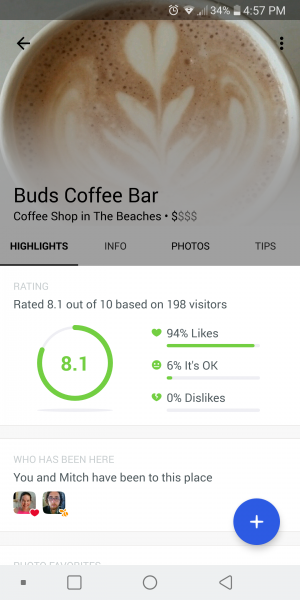 One of the key features of Foursquare is the venue tips. Tips frequently include information on the best dishes to try, best hours to visit, whether service is friendly or if something went wrong. These provide a wealth of information about places, giving their business owners an opportunity to find out what they are doing right (or not so right).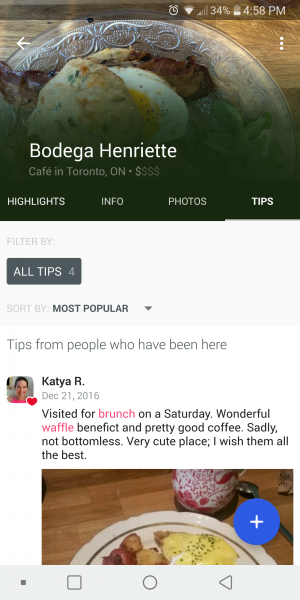 Every venue listing on Foursquare is user-generated. Some just have been around longer than others. Any user can add a new venue. Business owners have the ability to claim an existing venue as their business (more on that later).
Swarm
Swarm by Foursquare is available as an app for Android, iOS and Windows, with some limited desktop functionality for registered users. As mentioned before, its focus are the check-ins! Swarm excels at calculating user's precise location (obviously, it needs permissions to access your phone's GPS to function) and recommending places to check into based on the location.
Here is what the main screen looks like for logged-in users:
When you tap the blue pin icon, a list of nearby places appears:
I want to check into SMM Headquarters since this is where I am right now: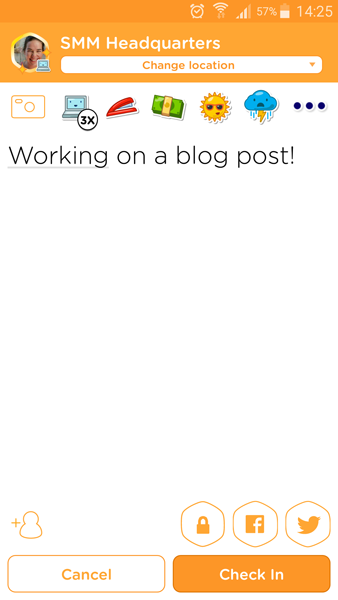 Once I tap "Check In", my new location is shown on the main screen for my all Swarm friends to see. Other than that, Swarm check-ins are private; their visibility is restricted to only those people a user approves as friends on the app.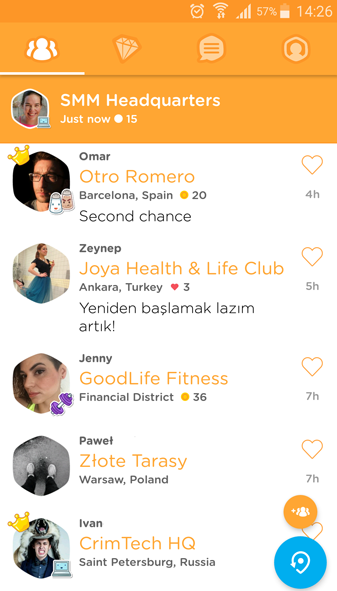 Swarm is a fun app that is not really about discovering local businesses but planting a flag in one once it has been found. Foursquare and Swarm share the venue database, so the information between the two stays synched. Either app can be opened from another (provided that both are installed on the user's phone).
Lots can be said about more advanced features of Foursquare and Swarm (in a separate blog post)! We are here to discuss their uses for small businesses, so let's go into that next.
Foursquare for Business: Your Listing
You now know how businesses appear on Foursquare and Swarm. You know that users create venues and add information to the listings. There is nothing preventing you from doing the same for your own business. All you need is a personal Foursquare account.
Creating an account on Foursquare is free. Adding venues is also free. However, claiming your business isn't free. It costs $20 USD to verify your ownership, and sadly there is no way around the fee for Canadian businesses. (In the U.S., an option to get verified via a regular mail postcard existed for some time, but it is being phased out in favour of the instant, paid, verification.)
That said, if your business is already listed on Foursquare, you should claim it. If your business is not listed yet, you should add it and claim it as well. The price tag ($20) to do so may be a little or a lot depending on what your business does. Since it costs some money, let's go through…
The advantages of claiming your Foursquare listing:
Claiming a venue on Foursquare will give you full control of the information that appears on the page, including contact details, address, map pin, and photos.
You will be able to edit details of your listing instantly instead of waiting for them to be moderated (every unclaimed listing goes through multiple info checks before the edits are accepted and applied).
As a verified page owner, you will be able to showcase the best user-generated photos on your listing and flag those that are not relevant to your business.
Last but not least, advertising on Foursquare and Swarm is only possible for claimed venues!
Warning: Foursquare and Swarm are location-based platforms for businesses that want more foot traffic. If your business is closed to the public and/or does NOT have a physical location, you may want to reconsider spending money on claiming it. You or your employees can still create a venue for you all to check in there.
Claim your business listing on Foursquare: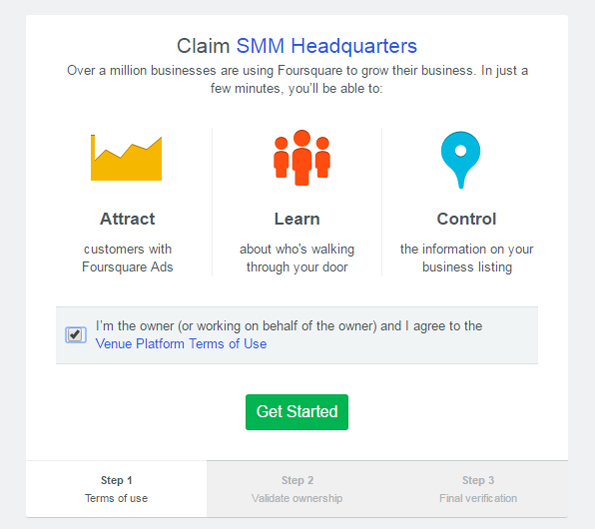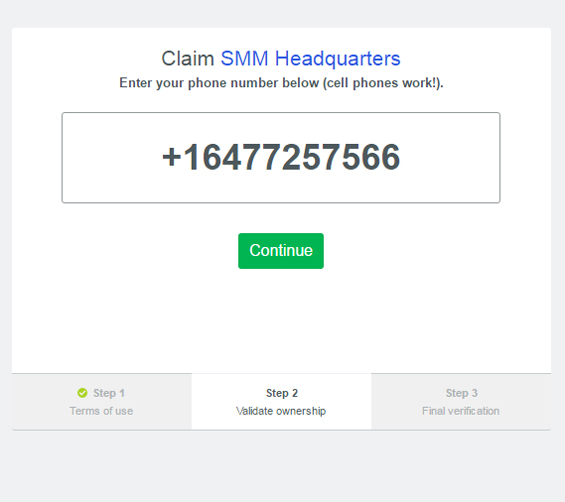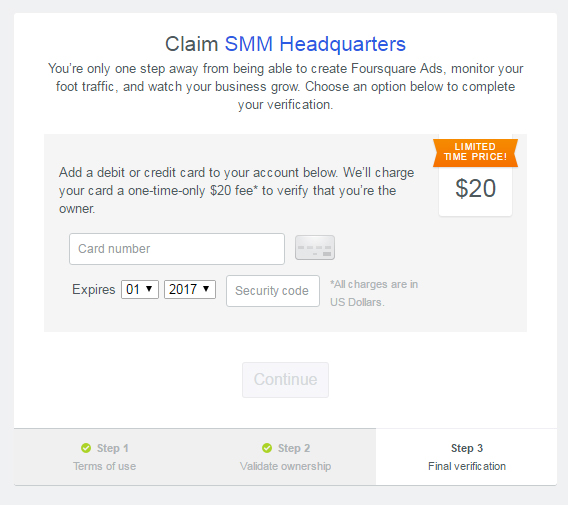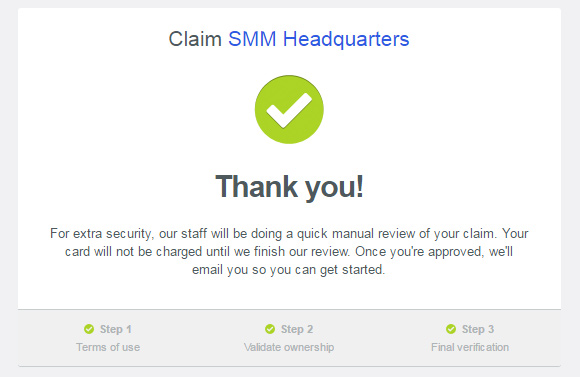 Now you can take advantage of all the Foursquare features for businesses and start marketing on the Foursquare platform!
Foursquare for Business: Manager Home
After your venue claim is reviewed and approved, you will be able to switch between your personal Foursquare account and your business account any time you like.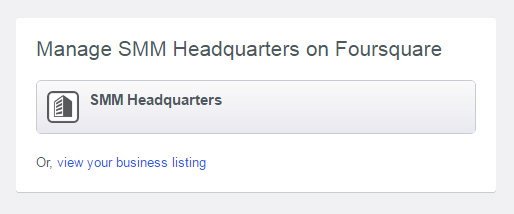 When using Foursquare as your business, this is what you will see: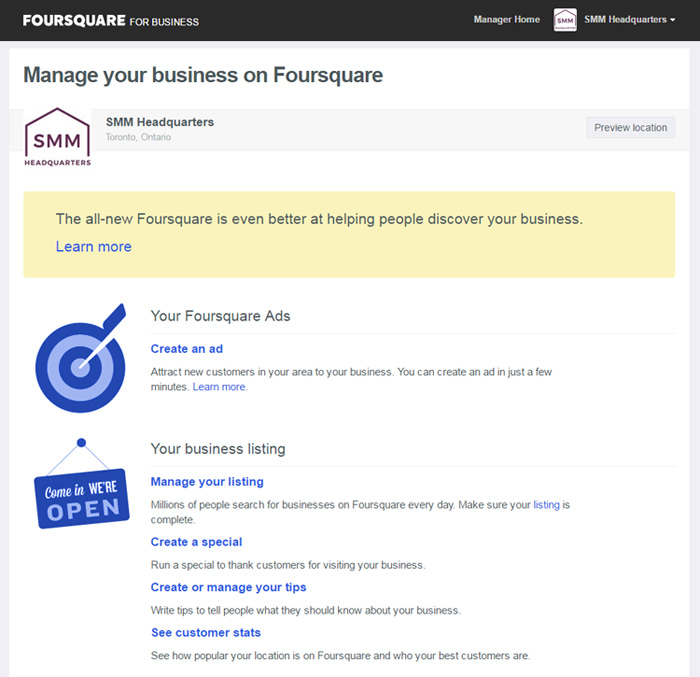 The options available to you are pretty clear. Clicking on "Manage your listing" will take you to the "Tools" section, where you can edit the logo, write a brief business description, include the location, specify opening hours, special events and more.
There are also some Advanced Tools that you can employ to manage your listing.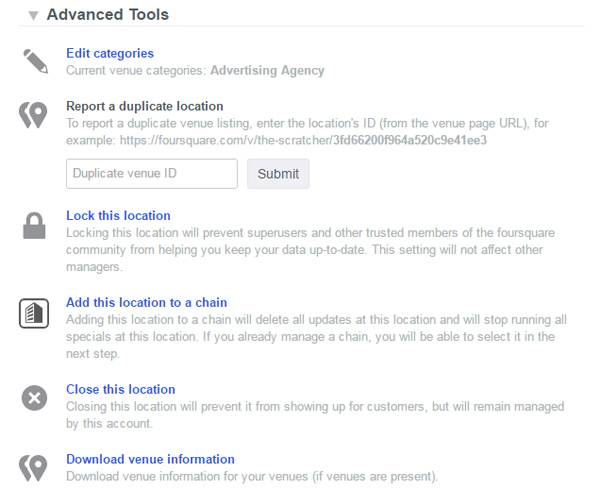 As you can see, having a claimed listing on Foursquare gives you full control over it. Worth the 20 bucks, if you ask me!
Advertising on Foursquare
And now, let's talk about Foursquare ads.
Now that your listing is complete and looks all shiny and attractive to Foursquare users, do you stop there? Is it worth advertising on Foursquare for additional exposure?
The answer will vary. Let's go over some advantages and disadvantages of advertising on Foursquare/Swarm.
Advantages of Foursquare advertising:
If the apps are popular in your city/area (easily judged by the number of local venues and the level of check-in/tip activity), advertising on them taps a very targeted audience with the intent to purchase immediately.
The platform is much more niche than Facebook/Instagram and is directed at local businesses specifically.
Action/bid campaign types allow you to compete directly with other business owners in the same category via bid size, controlling how much you spend on ads.
Because Foursquare is much lesser-known as an ad platform and/or your business is even slightly unique, you may not face ad competition at all!
Disadvantages of Foursquare advertising:
The stats may look impressive, but if the audience isn't present in your target area, ads will do little to reach it.
The primary focus of the Foursquare platform is on the discovery of entertainment/food/drink businesses, not corporate, professional services. Foursquare users are in pursuit of leisure. So if your business falls into the latter category, you may not have much luck.
Platform ad analytics are much less robust than what Facebook and Google offer.
Therefore, you should advertise on Foursquare if:
Yours is a local business with a physical location;
Foot traffic is welcome and needed in your business;
Your establishment has a relatively low price barrier for impulse purchases (food/beverage, souvenirs);
The Foursquare listing for your venue already has check-ins and user feedback (tips and photos).
You SHOULD NOT advertise on Foursquare if:
Your business does not have a physical location or does not want/encourage foot traffic. Foursquare is just not for you.
The main product line of your business involves a lot of prior customer consideration (think luxury items and big purchases like cars). You may still benefit from general exposure on the platform, so claim your listing and keep it up-to-date.
Your business does not target the core Foursquare demographic of younger users eager to discover entertaining places in the city (think real estate agencies versus pizza places).
Important: Advertising on Swarm
As a small business, you do not currently have an option of advertising on Swarm specifically. As you will see below, Foursquare Business Manager only provides you with an option of ordering ads on Foursquare City Guide.
When asked about it, @4sqSupport referred me to their ticket system:
Hey! Please visit the following link and submit a help request. Thanks so much! 🙂 https://t.co/U6jn0XjzzP

— Foursquare Support (@4sqSupport) March 20, 2017
Customer Support wasn't too helpful:
Hi Katya,

Unfortunately we only offer advertisement on Foursquare City Guide. I apologize for the inconvenience! Thanks!

Best regards,
Evan
I pointed out to Evan that ads do pop up on Swarm, looking something like this:
Only when prompted, Evan graced me with a reply, but continued to be unsatisfyingly brief:
Hi Katya,

Unfortunately we currently only offer Swarm advertising to our largest business partners. I apologize for the inconvenience. Thanks for your patience.

Best regards,
Evan
Indeed, Foursquare does work with big brands, offering them more robust advertising solutions than those currently available to you as a small business owner. Advertising on Swarm seems to be part of that deal.
So below, we will only discuss advertising on Foursquare proper.
Getting Started with Foursquare Ads
When you log into your Business Manager on Foursquare, the option to create an ad is immediately available to you.

All you need is some basic copywriting skills, an image, and a credit card.
1. Build your ad
Enter your ad description into the box. The maximum length is 160 characters, just slightly longer than a tweet!
Select a photo that best represents your ad message. Your logo may not necessarily be the best choice. Emphasize the uniqueness of what you offer with a relevant image (your best-selling product, the best-rated dish or even a happy employee!).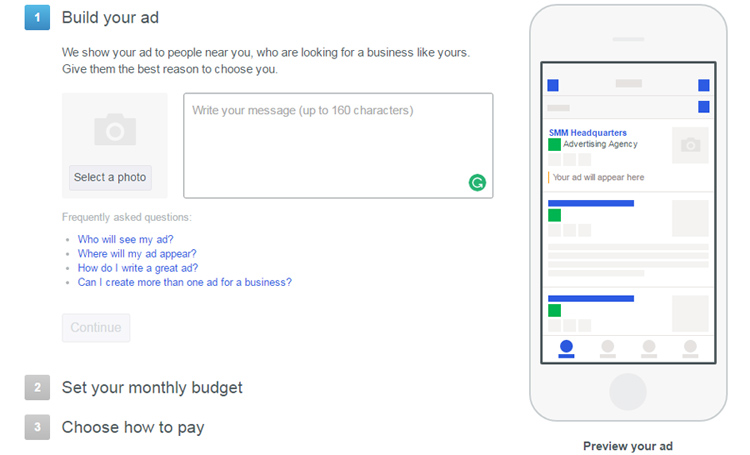 2. Set your monthly budget
The minimum monthly budget you may have is $25 USD. The minimum bid (cost per action) is $0.50 USD. You will only pay for actions that Foursquare users may take after seeing your ad. Ad impressions are free.
What counts as an action:
A click on your ad after a user sees it on Foursquare;
A visit to your business following an impression of your ad (without necessarily clicking on the actual ad);
A Swarm check-in at your business following an impression of your ad.
The bid amount you select indicates how much at most you are willing to spend on one action. Because Foursquare runs a placement auction among competing ads, if yours is the winning bid, you will only pay the amount of the second-place bid. For example, if your bid is $5 and your competitor has bid $2, you will only be charged $2 for the action.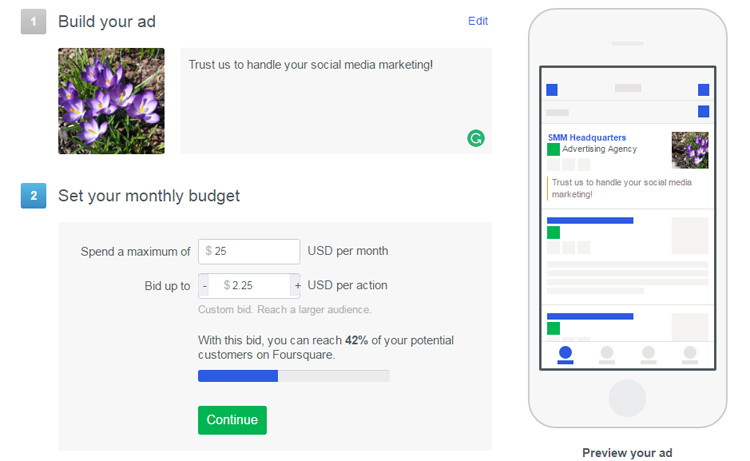 3. Choose how to pay
You can pay for your ads with the credit card you used to verify your listing. You may also add a different card. Your ad will run continuously until your monthly budget runs out or until you pause your ad. Your credit card will be charged weekly.
You can edit your payment methods and view your transaction history under Billing.
Click "Turn on my ad" and you are set!
Next steps after you create a Foursquare ad:
Monitor its performance under Stats 
Adjust the monthly budget and bid, if necessary.
Create additional ads to test different messages and photos, if you like. Each ad will have its own budget and bid.
If you already advertise on Foursquare, we'd love to hear from you! Comment below or email us, and we'll update the post with your story!
Conclusion
Being present on Foursquare as a business is a lesser-explored marketing opportunity than marketing on Facebook or working on SEO for Google. However, it can bring enormous value for the right type of business when used appropriately. In particular, advertising on Foursquare may boost your sales and increase customer traffic for a much lower bid price that you would normally pay for Facebook ads or Google AdWords.
To take advantage of all features of Foursquare for Business, you do need to claim your listing, which requires an investment of $20 USD. It is very useful regardless of whether you choose to advertise afterwords or not. Ad bid amounts and the monthly budget required to get started are up to you. If your establishment fits the interests of the Foursquare core user base, you may see great results from marketing on the platform!