I remember the time when Facebook was not a thing small businesses worried about. At all. One day I was working at my travel agency, worrying about clients' emails and answering phones, and then the next thing I knew — bam! — I was setting up a Facebook page for our tiny company.
It was disorienting even then. No cover photos, no custom URLs, absolutely no post boosts. There was a WALL. And thumbs up icons for likes. The very idea of having a page for a private company, not a celebrity or a soccer club, was new!
Today, every business needs to be on Facebook, but small business owners feel just as lost as I did back in 2011. The platform keeps evolving at a lightning speed. Do you feel like you can't keep up so you delay getting started? I sure do know the feeling.
Odds are your competitors are on Facebook. If you still have not jumped on the Facebook bandwagon, you've probably been plagued by equal parts FOMO and arguing that your business does not need it 🤔
Do small businesses need social media anyway?
The truth is, yes. For branding. Trust. Recognition. A platform to share. These are valuable things that social media presence provides for businesses of all sizes, even those with no deep pockets.
Yes, there are considerations on how to choose a social media platform. Yes, your target audience may not be hanging out on Facebook exclusively. But if your business needs a social media plan of action, Facebook, being the largest and the most versatile of platforms, is an obvious choice to get you started.
There are a couple of reasons why Facebook, in particular, is good for business.
It offers you opportunities to build a beautiful communications stream with a narrative that you control.
It gives your customers an easy way to reach you that may be less stressful for them ☎️
An active Facebook page shows prospective customers that your business is active and striving, so visiting your page may seal the deal. (This has been demonstrated time and again with my clients — the number of inquiries and calls shot up after they revived their Facebook pages.)
Brand building will accelerate. If your business is new, brand evolution is inevitable and posting on Facebook may help.
You will get to know your customers. Connect with them; learn about them; serve them better as a result.
But only if you put in the work! 💪
Getting Started with the Basics
Facebook business page set up is straightforward. Remember a few things:
You need to have a personal Facebook profile to create a business page.
Your name will not be shown anywhere in connection to the page unless you choose to add yourself as a Team Member.
You do not need a second profile "for business purposes" — that's against Facebook Community Standards.
Do not use your profile to promote your business, as very useful marketing functionality such as Facebook Insights is available only to pages.
Detailed instructions on how to complete the setup of your Facebook business page are here.
All done? Great! Now you need to come up with a plan.
Kate Smalley, a marketing communications consultant specializing in fintech and finance (not the easiest industries to market!) does not mince words about going in blind.
Posting into the ether doesn't work.

You need to start by thinking through what your page is for… [and] who it's for.

Kate Smalley, www.katesmalley.com
Having an idea of what you want to say and to which audience is enough at the very beginning. But do sketch it out once your page is created, so you aren't posting random things just for the sake of "Social Media Presence".
Posting on Facebook
Posting on Facebook is easy (sometimes too easy), but there are a couple of differences between posting as yourself on your personal feed and as your business on your business page.
All posts will be attributed to the page by default. It means that you should decide in advance on the language and tone you are going to use when putting updates onto your page. More specifically, settle on "I" vs "we" and stick to it.
Posting on Facebook as a beginner may seem intimidating because of all the post options and buttons available to you. Depending on your business type, you will use some of the features more than others. Attaching photos and videos, tagging products, adding a message button and a poll are among the most highly used functions for business owners getting started with their Facebook pages. 👇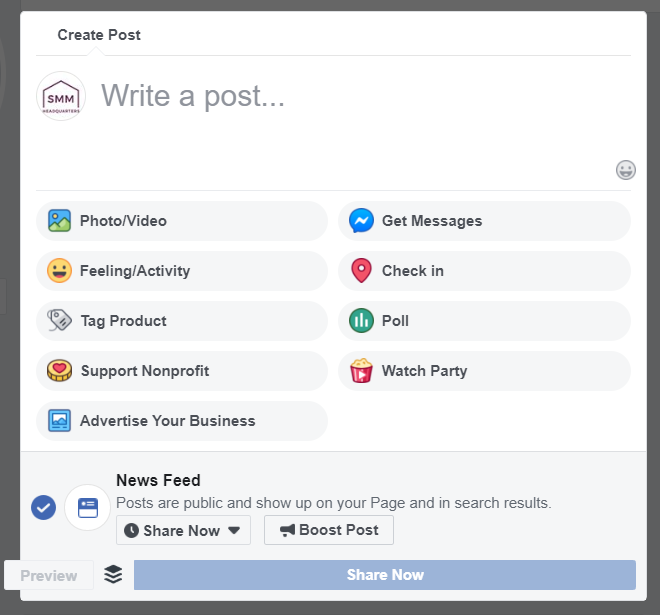 Here is the full list for reference.
Photo/Video — attaches a photo or video to the post. You can add multiples.
Feeling/Activity — automatically ads a line "Feeling/Doing XYZ" to the post, like "Feeling determined".
Tag Product — available if you have an e-commerce store connected to your Facebook page, allowing you to tag products you sell in the post.
Support Nonprofit — adds a donation button.
Advertise Your Business — opens up options to boost the post.
Get Messages — adds a neat "Send message" button below your post.
Check in — adds the chosen location to your post.
Poll — allows you to create a simple 2-option poll within your post.
Watch party — gives you an option to host a screening of a publicly available video and for viewers to add comments as they watch.
Post Drafts and Scheduling
Posting as a page, you also have an option to schedule or save your post to drafts. Drafts are great for seeing how different media (photos, galleries, videos, maps) will look with the post — in fact, I recommend always saving your posts to draft first to make sure they look their best.
Scheduling is highly useful when you want to space out your communications. Learning how to schedule is one of the first skills you may want to master on Facebook, according to Emily Hessney Lynch, a social media strategist and the founder of digital agency Serve Me the Sky Digital:
Early on I learned scheduling content in advance & having a plan is important. Otherwise you'll post weaker content on the fly or forget to post.

Emily Hessney Lynch, Serve Me the Sky
Notice how Emily mentions having a plan as well? Yes, that's not going to change. Planning ahead will serve you well. I don't make the rules.
Facebook Insights
Once you get the hang of publishing updates to the page and start accumulating some followers, turn your attention to Facebook Insights — it has valuable data on how your page is doing and how you can make it better.
Key metrics are all given space on the Insights dashboard:
Page views, previews, likes, followers;
Post reach and story reach;
Post engagements;
Recommendations (previously Reviews);
Responsiveness of your page to messages.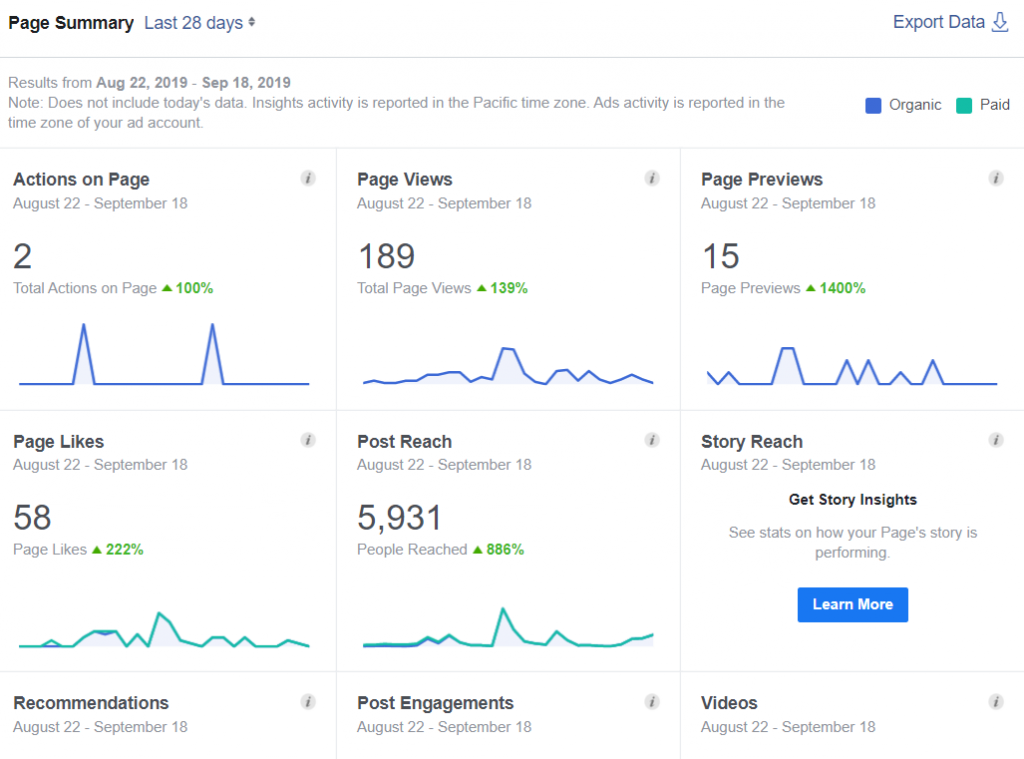 Each of the metrics above can be explored in more depth in its own tab in Facebook Insights. As a Facebook beginner, you may find yourself visiting the tab for Posts the most often, because it shows you the performance of each post compared to all the others you've recently made. This helps you make decisions on which post types to prioritize.
Video used to be cited as the best performing medium on Facebook, however, it's not all black and white. You may find that your page followers engage more with photos or click on relevant links more often.
But how do I grow my page to get to know my audience? — you may ask. Where do I get this audience?
Marketing Your Page on Facebook
Marketing on Facebook isn't as easy as some blog posts would lead you to believe. And the truth is, depending on your line of business, it may be significantly harder or, rarely, significantly easier to grow your following.
When I first started marketing on Facebook for my then-company, it was as easy as inviting my friends to like the page and ask them to share a few posts. Post reach was in double digits. Photos did the trick. We, marketers, loved it… until it was over.
Depending on your line of business, it may be significantly harder or, rarely, significantly easier to grow your following.
Facebook doesn't like organic reach very much anymore because they want your advertising dollars. "Pay to play" is a common phrase when describing Facebook today. If you do not want to pay, you will have to be very patient and consistent with your efforts. (If you do want to pay, then know what you're paying for and probably don't pay for vanity numbers like page followers, mmkay?)
One of my clients is a travel guide and for them, it is so easy to grow it's ridiculous. Because who doesn't like a nice photo of a beach or a mountain shot in their timeline? Page likes practically fall on them. Post shares are a regular thing.
On the other hand, another client with a health practice has to fight tooth and nail for each new follower. They run promos, give out freebies, engage in Facebook groups. It is all good effort for them that builds brand recognition, but it's not EASY.
Is a travel website an inherently better business than a health centre? Of course not. It's just the nature of Facebook marketing. Your business is unique and so your mileage will vary. You will succeed if you put in the effort, but this effort may take a while. So make sure it counts!
#1: Focus on being useful
Make it your motto to create a meaningful info channel for your customers. Forget the number of likes and follows — focus on being useful.
Check out these great examples below 👇
#2: Continuous engagement is key
Settle on a posting schedule, just like Emily suggests above. Make sure you have enough content and/or creativity to deliver week after week, month after month. If you skip a day on an occasional week, it's fine, but don't go weeks without posts — maintain your presence.
Monitor Insights for post ideas to diversify your content. Experiment with image galleries, collages, simple polls or even contests.
#3: Join Facebook groups
Search for relevant groups to join as your page. Since some groups now allow pages to join as members, engaging participants in other groups is now easier.
FB groups are a great option if they make sense for your biz! Good way to build community.

Emily Hessney Lynch, www.servemethesky.com
When participating in groups, do not, and I repeat, do not make it about your business at all, unless directly asked. This is not fun for others. Focus on providing information, advice or praise. Monitor the groups continuously and be patient.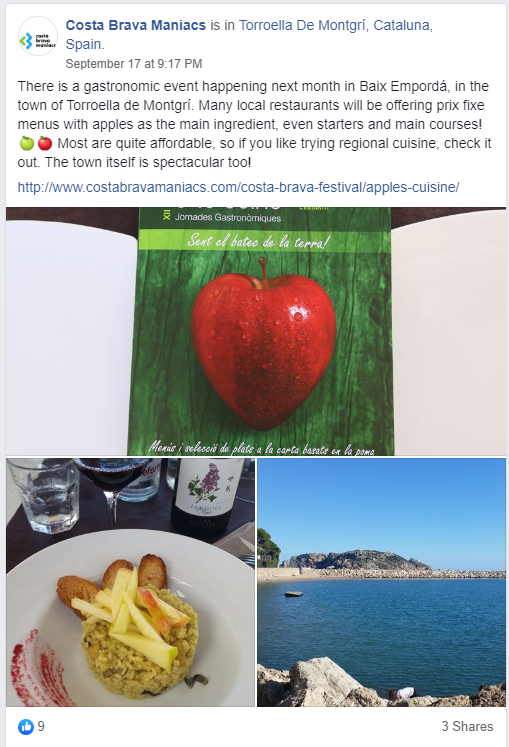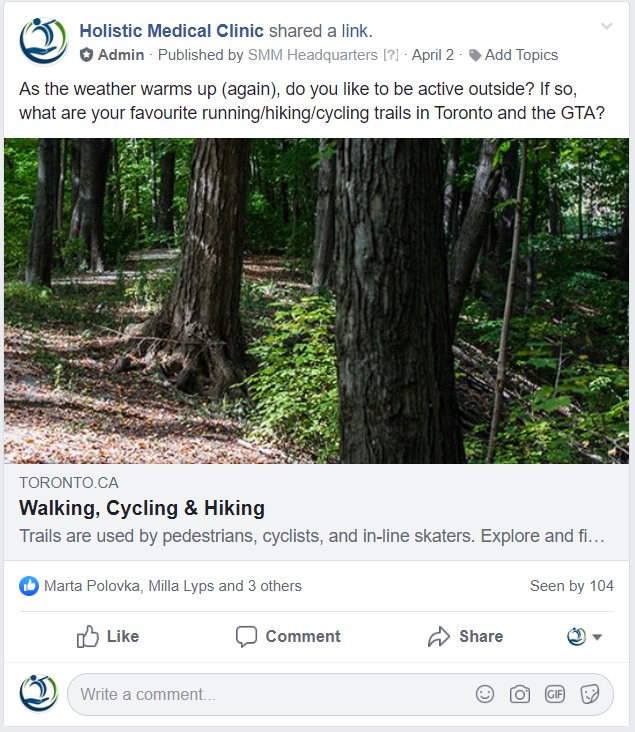 #4 Monitor page messages
Reply to your page messages as quickly as you can. A high response rate delivered quickly enough will activate the green badge of response time that will encourage people to reach out to your page.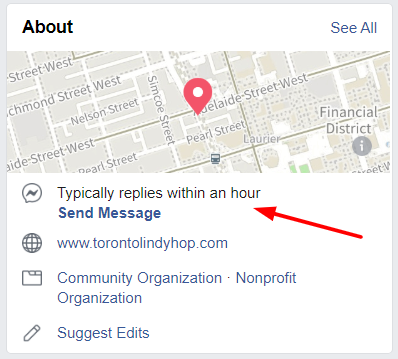 #5 Play nice
Does it even need to be said?
Do not steal content or assets.
Avoid repost without permission (Facebook post shares are okay since they credit the creator).
Never use images you have no rights to use (plenty of high-quality stock is now free).
Do not air grievances with customers in your posts — that's gross and unprofessional no matter how in the wrong they are.
And just keep going. You got this.
What Next?
Now that you have all you need to know to absolutely nail it on Facebook for your business, it is time to put it into practice! And once you do, don't be surprised when you start wondering if you should get on board with Facebook Ads too… and Business Manager… The journey is neverending.
Thanks for reading!