This is Part 3 of Social Media Marketing 101, a series of step-by-step guides written specifically for small business owners who are new to social media. Head to the beginning or read Part 2 here .
In the previous installments of Social Media Marketing 101, we have gone through ways to establish your initial strategy and also covered the major social networks your small business may want to be on.
Now it is time to look at each one of them in detail. Let's start with Facebook!
Facebook Basics
Facebook is big, bigger than any other social network out there. Unless you want to advertise, it is completely free t use. Anyone over 13 years old anywhere in the world may register on Facebook.
Here is the personal information you will need to provide to get started:
your first and last name,
a valid email address,
date of birth,
gender.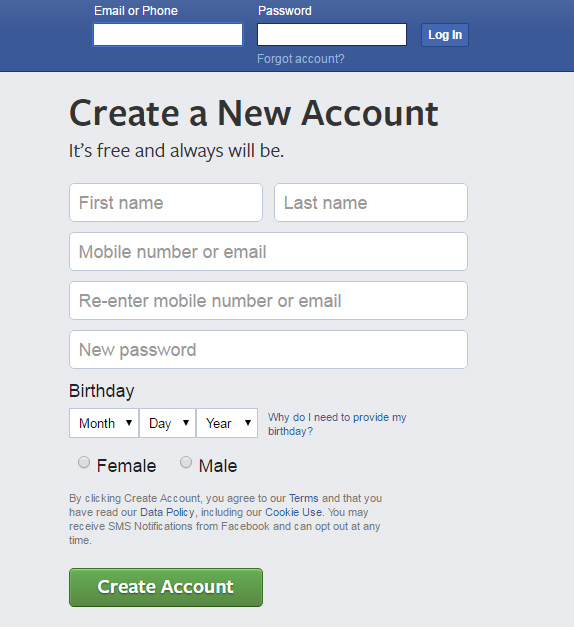 Once you register, you will be able to make all of these details as private or as public as you wish.
Everyone registered on Facebook has a personal profile. On the other hand, businesses on Facebook are represented by Pages or by Groups (more on that later).
Are you thinking, "May I create a business page without a personal Facebook account?"
Unfortunately, the answer is no. You cannot create any type of business presence on Facebook without registering a personal profile first. This used to be possible, but no longer.
Note that you also should not create an additional personal account to run a page. Facebook frowns on duplicate accounts and may suspend both without warning.
Even though you must have a profile, you do not have to use it actively in order to create and run pages. Your name will not be associated with your business page in any way. The names of page admins/contributors are not public and cannot be seen by anyone except admins and contributors themselves.
Facebook for Business: A Page or a Group?
Facebook Pages
Pages are official brand/business profiles on Facebook. They function similarly to personal profiles: they have a profile picture, a cover photo, pertinent business information and contact details. Admins and visitors may post updates, upload photos and videos to the Page.
A few things that set pages apart from personal profiles:
A page is public by default. Admins may restrict access to it by age and by country (allowing/not allowing visitors from certain countries ).
Anyone, excluding those restricted by admins, may like and follow a page.
By default, anyone can publish to the page and upload photos/videos. Admins may restrict that ability by requiring post moderation prior to publishing. Visitors' posts appear in a separate column on the right, making them less visible on the page.
Visitors may review a page unless the admin turns that ability off.
Go to Page Settings to change any of the options above.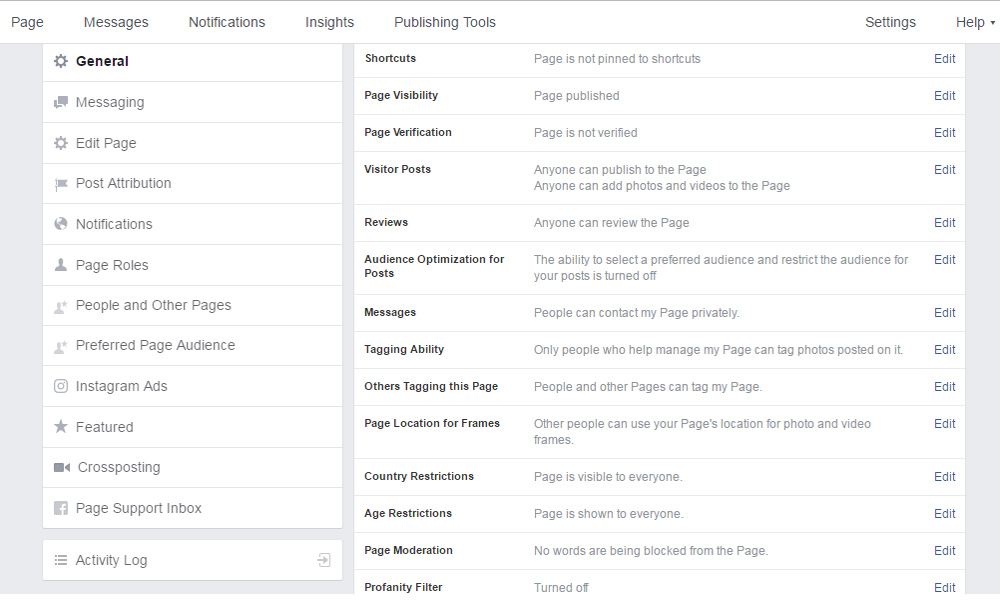 Facebook Groups
Groups are community- and discussion-oriented, so all participants' posts carry equal weight on the main feed. Admins and moderators are in charge of groups, which may be public, private or secret.
Public groups are visible in search and anyone may browse their contents.
Private groups are also visible in search, but post-viewing is restricted to group members. Anyone may request to join the group; a moderator or an existing group member (depending on settings) will have to approve the request.
Secret groups do not show up in Facebook search. Only existing members may add new members to the group, which may or may not be subject to admin/moderator approval.
Facebook Groups are an interesting beast. They are wonderful for building an online community of like-minded participants and for encouraging conversation. They are rarely a great choice for a brand to represent itself on Facebook.
Small businesses should be represented by a Facebook page, not a Facebook group. Small businesses should also never be represented by a personal profile instead of a page. Do not turn your personal profile into a profile for your business.
Setting up a Facebook Page
This actually couldn't be simpler! Wherever you are on Facebook, you can look to the very right corner of the screen and click the little triangular arrow.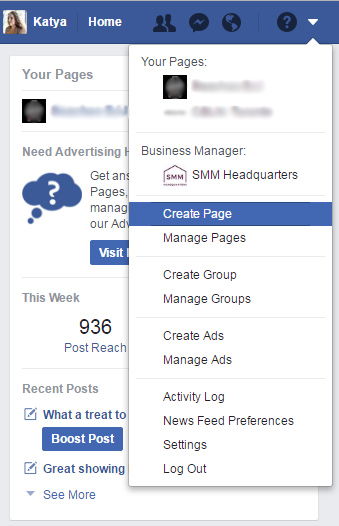 From the pop-down menu that appears, choose "Create Page" and follow Facebook's prompts.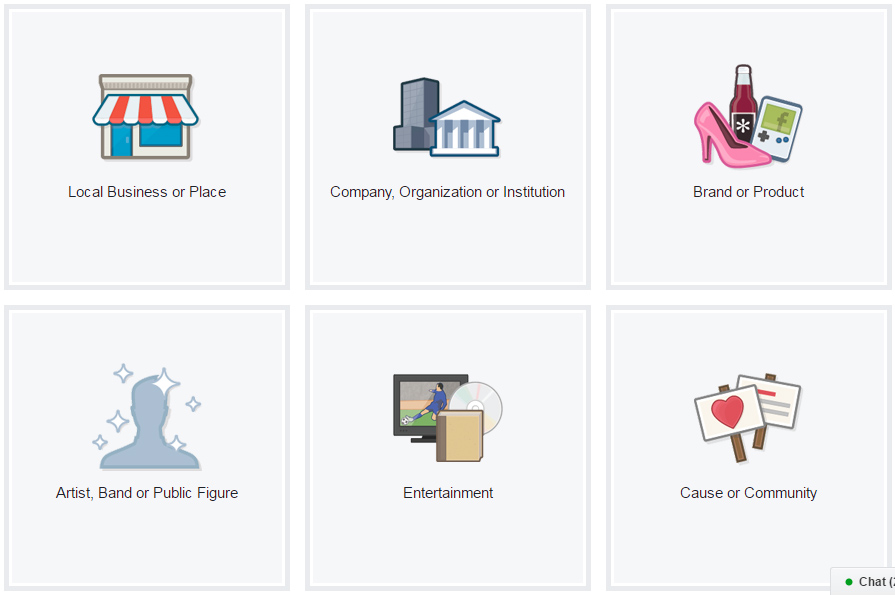 Everything from then on should be about your business, not yourself, so you should choose a page category and fill in all the information according to what represents your business best.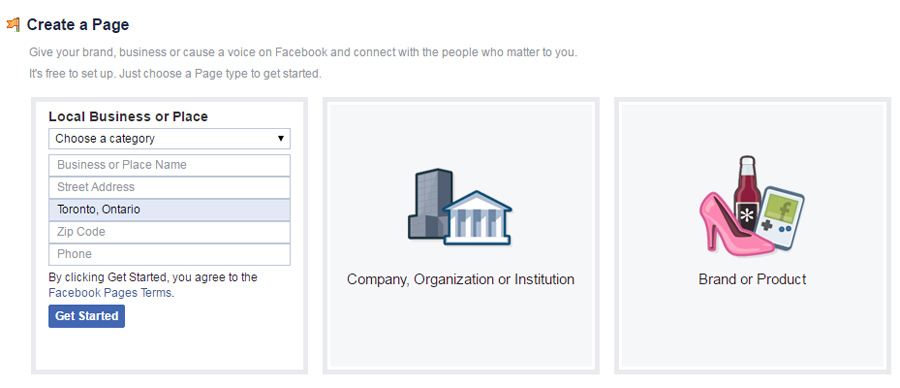 Upload your profile picture (your business logo is a great choice) and choose a cover photo. Profiles pictures work best in the square format. The recommended dimensions for cover photos are 851 by 315 pixels, but you may upload a bigger image and reposition it as you wish.
To edit any of the Page sections, click on the three dots under the page cover photo and go to Edit Page Info.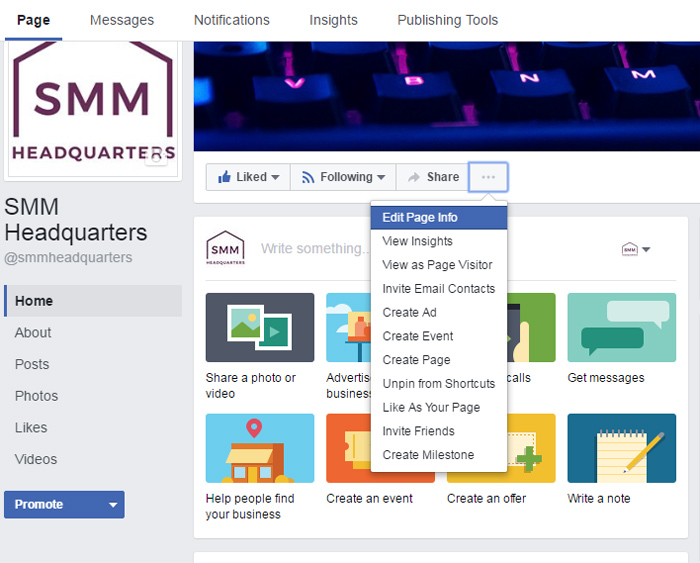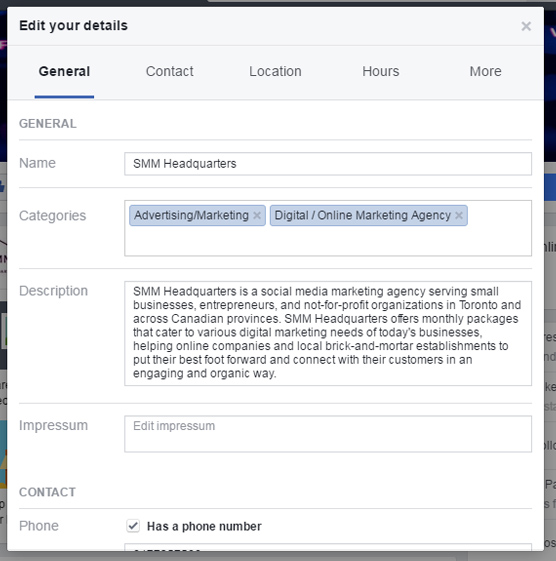 Invite your friends from your personal profile to get the first likes on your Page. It is easy: click on the three dots under the page cover photo and go to Invite Friends. You can select people to invite individually.
Facebook Page Best Practices
Do:
Fill in the sections of your Page as much as possible. Write the business story, describe your products or services, indicate the year you founded the company.
Choose a profile picture and a cover photo that represent your brand the best. Your logo should be present somewhere on the page. Cover photos may be a bit more creative to allow you to stand out.
Provide ample contact details, including your phone number (very important!), your website, and a physical address if you are a local business.
Post regularly: nothing looks worse than an abandoned Facebook Page!
Invite your friends to like your Page. Some of them are already looking for what you offer and others will be happy to support you by liking the page. Get that like count started!
Don't:
Turn your personal Facebook profile into a business "profile".
Create another personal account for business purposes if you are already on Facebook.
Post personal photos, status updates or videos on your business page. Keep it professional.
Try it out!
Facebook is such a robust platform that you can read volumes and volumes about it and still have something surprising left to discover. This post outlined the very basics of starting up on Facebook. As a small business owner, you will find that you can get a hang of the basics very quickly – you just need to start!
What Facebook functionality should we cover next? Let us know in the comments! ?