Note: I wrote this post with small business owners in mind who are just starting out on Twitter. The advice below follows the same focus throughout.

POST LAST UPDATED: August 10, 2021
ORIGINALLY PUBLISHED: February 28, 2017
So here you are, finally on Twitter and ready to start sharing all about your great business. You are probably asking yourself a lot of questions right now.
How do I tweet? What do I say? Most importantly, what to tweet first?
Just like any other social network, Twitter requires a bit of getting used to. Its format is unique since tweets are limited to 240 characters, there are hashtags to worry about, and everything you post will be public*.
*Unless you mark your profile as private, which we do not recommend for business accounts.
First impressions matter on Twitter. Your first tweets will not only teach you how to use the platform but also set the stage for your account and pave the way for your first followers and likes.
So today, we are going to be talking about the first tweets! No matter what kind of business you run, there are things for you to tweet about, and some of these things should definitely be included in your first few tweets.
How Twitter Tries to Help New Users
Twitter offers a little tour for new users. The tour directs you where to click to access the most important parts of the platform like your profile, the settings, and your home feed.
It also invites you to send your first tweet at the end of the tour. Twitter is very understanding about you being new, so it kindly provides ideas for you to try with your first tweet.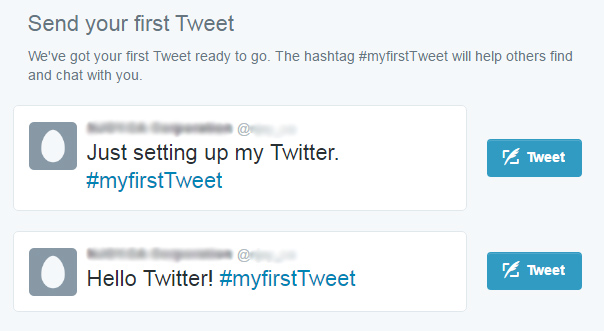 As you can see, both tweet suggestions include a hashtag (#MyFirstTweet). If you decide to include it in a tweet, you can then click on the hashtag and see who else just got started on the platform.
Unfortunately, this template is what every new user sees. There is nothing wrong with tweeting this message, but in all honesty, it is pretty boring and tells the world nothing about you or, most importantly, about your business.
Sherpatax is an amazing free tax tool for Canadians, but you wouldn't know it from their first tweet! (Thankfully, they have tweeted plenty great things since.)
Don't let your first tweet go to waste!
What to Tweet First as a Small Business Owner
So what should your first tweet say? Here are the five things that you could talk about. Some of them are perfect for the first tweet, and some can be used to craft your second, third and even fourth tweet.
1. Introduce yourself
This should be your very first tweet. Introduce your business and express excitement about it. Feel free to say that you are excited to be on Twitter too!
2. Be informative
Offer vital information about your business as soon as possible. This could include where you are located or where you operate, your value proposition, what you will be tweeting about, why your clients love you, and more.
 3. Immediately show how to get in touch with you
You need to outline concrete steps towards getting to know you beyond your Twitter feed. List business hours to encourage customers to come in. Share the link to your website for people to learn more. Provide a portfolio link so that visitors may see your design work right away.
4. Find peers and say hi
Twitter has made connecting with business owners in the same industry so much easier. There is no reason why you shouldn't do this from the get-go! Your peers are more likely to engage with you and follow you back at the very start of your Twitter journey.
5. Post a photo
Tweets with images get the most engagement, and for a good reason. A photo catches immediate attention and helps provide an immediate link between a Twitter account and a business behind it. So let it!
Post a photo of your store, restaurant, studio or office. Snap a photo of your product. Share a smile on camera. The key here is not to be sales-y, but informative and entertaining.
First Tweet Ideas
The pointers above should give you plenty of ideas about what to tweet! But if you are still stuck, not to worry, the team at SMM Headquarters is here for you 🤓
We came up with 5 first tweet examples for some (fictitious) small businesses. Simply click the link to tweet! If what you do doesn't quite fit any of the categories below, let us know and we can brainstorm together.
First tweet for restaurant/café owners (112 characters):
Tweet: We are open for business Mon-Sun 9 am-6 pm. Come in for the best espresso this side of Don Valley! #coffeelovers
First tweet for freelance writers (98 characters):
Tweet: Seems like it's finally time to spend my lunch break setting up Twitter. Now back to writing I go.
First tweet for designers (124 characters):
Tweet: Hiya Twitter! Violet has finally joined. Graphic design is my life, so I will be sharing lots about that here. #myfirstTweet
First tweet for a consulting/service business (114 characters):
Tweet: We are Consulting Inc and we help other businesses be their most productive day in, day out. Feel free to connect!
First tweet for an e-commerce business (112 characters):
Tweet: Welcome to Awesome - our store is now open! Browse www.AwesomeShop.ca 24/7 and let us know how we can help!
Happy Tweeting!
P.S. Want to know exactly what your customers want to hear on Twitter? With our new "Start Talking to Your Customers" worksheets, you can! Check it out 👇